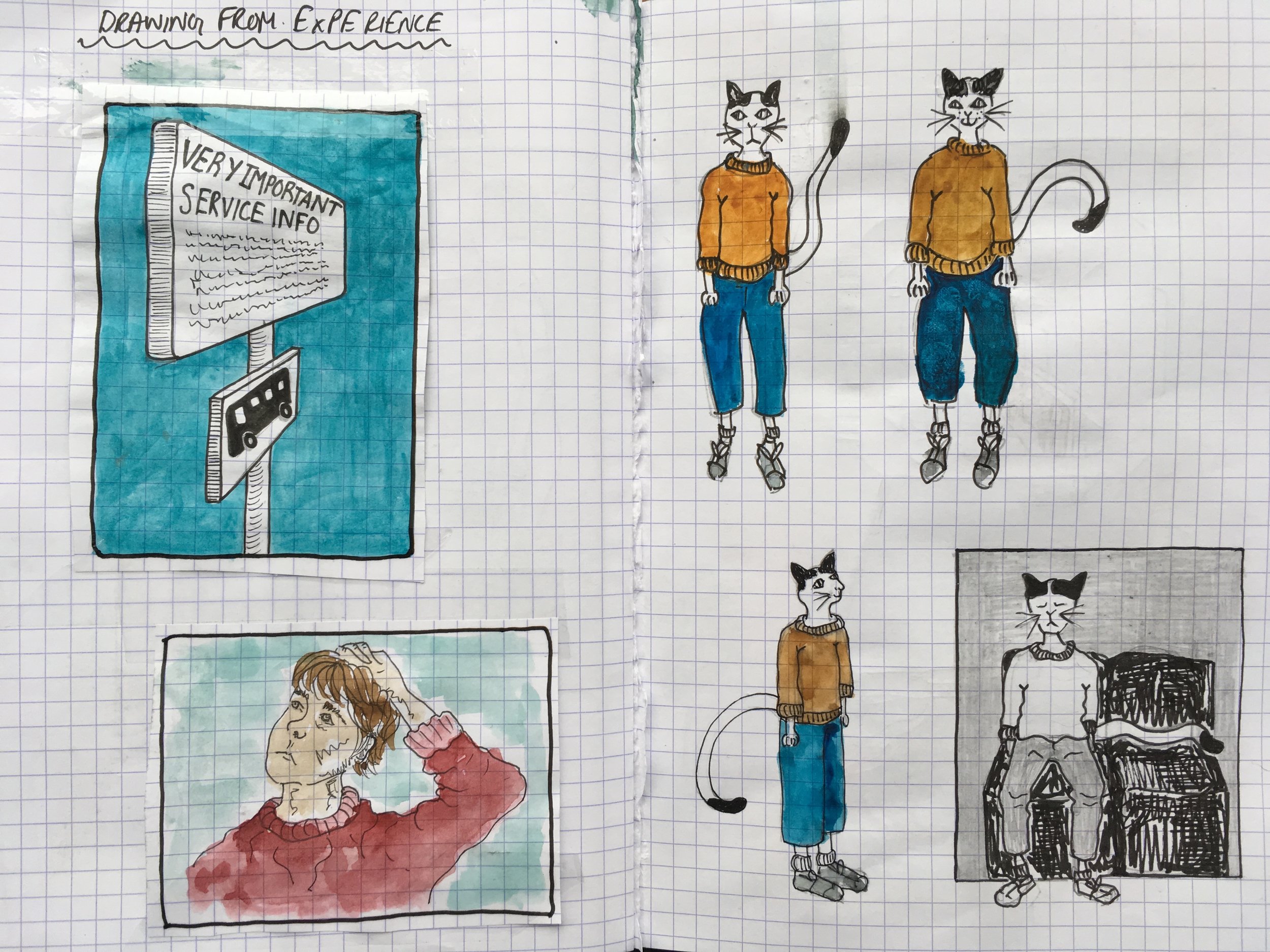 Can we use comics to describe the experience of living and travelling with dementia?
Here at Go Upstream we're delighted to announce the launch of our new project, Drawing From Experience.
Developed in association with V&A Dundee and University of Dundee, and funded by the Dementia Services Development Trust, Drawing From Experience will take a new approach to ensuring that the voices of people living with dementia are heard by service providers and designers – through the medium of comics, and aided by the skill of some very talented artists.
An exceptionally expressive medium, comics and graphic novels have a long and fascinating history and are increasingly appreciated for their use in describing personal experiences. Autobiographical comics are popular, and along with the growth of medical humanities – an interdisciplinary field focusing on how literature and culture contribute to medical education – an associated genre of comics has evolved, named 'Graphic Medicine' by doctor and comic artist Dr Ian Williams. There has already been a lot of local work in this direction; in 2017, a collaboration between the University of Dundee's Scottish Centre for Comics Studies, Ink Pot Studios, Christopher Murray of Comics Studies and Divya Jindal-Snape of the School of Education and Social Work produced an excellent comic that deals with issues of fibromyalgia.
Our project relates to this exciting area of research: Drawing From Experience will use comics as a way of engaging with and representing the varied personal and travel experiences of people living with dementia. We will commission comic artists to take journeys with people living with dementia and collaboratively develop work that describes that experience.
We're curious:
Can this approach help people with dementia to more accurately describe their experiences?

Can we gain new insights that lead to the development of more inclusive services?

Can comics and graphic novels provide information and training materials that are more accessible?

Can the outcomes inform local development plans and transport networks?
With their combination of the visual and the textual and flexible nature, comics have already been used as a unique learning medium in all sorts of contexts. This is what we have in mind – we're hoping the work created will be used as both an information and teaching tool by transport providers, helping them understand the travel issues faced by people with dementia and how to make their services more accessible.
This is all just starting off and we've organised a launch event which will get the ball rolling and see the project sparking connections between different groups. It will take place on Friday 22 March at V&A Dundee. We'll have some exciting speakers talking about comics, travel and dementia. We'll hear from local experts about the use of comics in health education, including Megan Sinclair, a PhD student from University of Dundee who will talk about the comic she created exploring her own experience of bereavement.
Join us for a creative afternoon and help us to spark ideas for telling stories that can help to influence the design of services that are truly inclusive.
You can sign up here.
This is just the start of our project, and we're really excited to see where it goes!